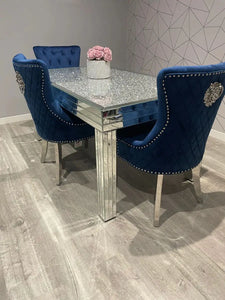 Crushed Glass Mirrored Dining Table
Introducing our stunning crushed glass mirrored dining table, the perfect centerpiece for your dining room. This unique design features a tempered glass top embedded with crushed mirror pieces, creating a dazzling, light-reflecting effect. The base is made of polished stainless steel, providing both sturdy support and a sleek, modern look.
The mirrored surface of this table is not only beautiful but also easy to clean and maintain. Its scratch-resistant quality ensures that it will maintain its shine for years to come. Additionally, the crushed glass adds an extra layer of dimension and texture to the table, making it a truly one-of-a-kind piece.
This dining table is large enough to comfortably seat 6 to 8 people, making it perfect for family gatherings or dinner parties with friends. The unique and modern design of the crushed glass mirrored dining table is sure to impress your guests and make your dining area the envy of all.
Add a touch of elegance and sophistication to your home with this stunning dining table. Order now and experience the beauty and functionality of the crushed glass mirrored dining table for yourself.
About this product
Crushed Glass Mirrored Dining Table
Product Dimensions:
Details
Made in China
Weight: 86.6 kg (191 lb)
---
We Also Recommend
---